It is finally that time of the year. The Masters? No. Opening Day? No. March Madness? No… The NBA Playoffs.
Jarael and I give our predictions of the highly anticipated NBA Playoffs and predict the Western Conference.
Western Conference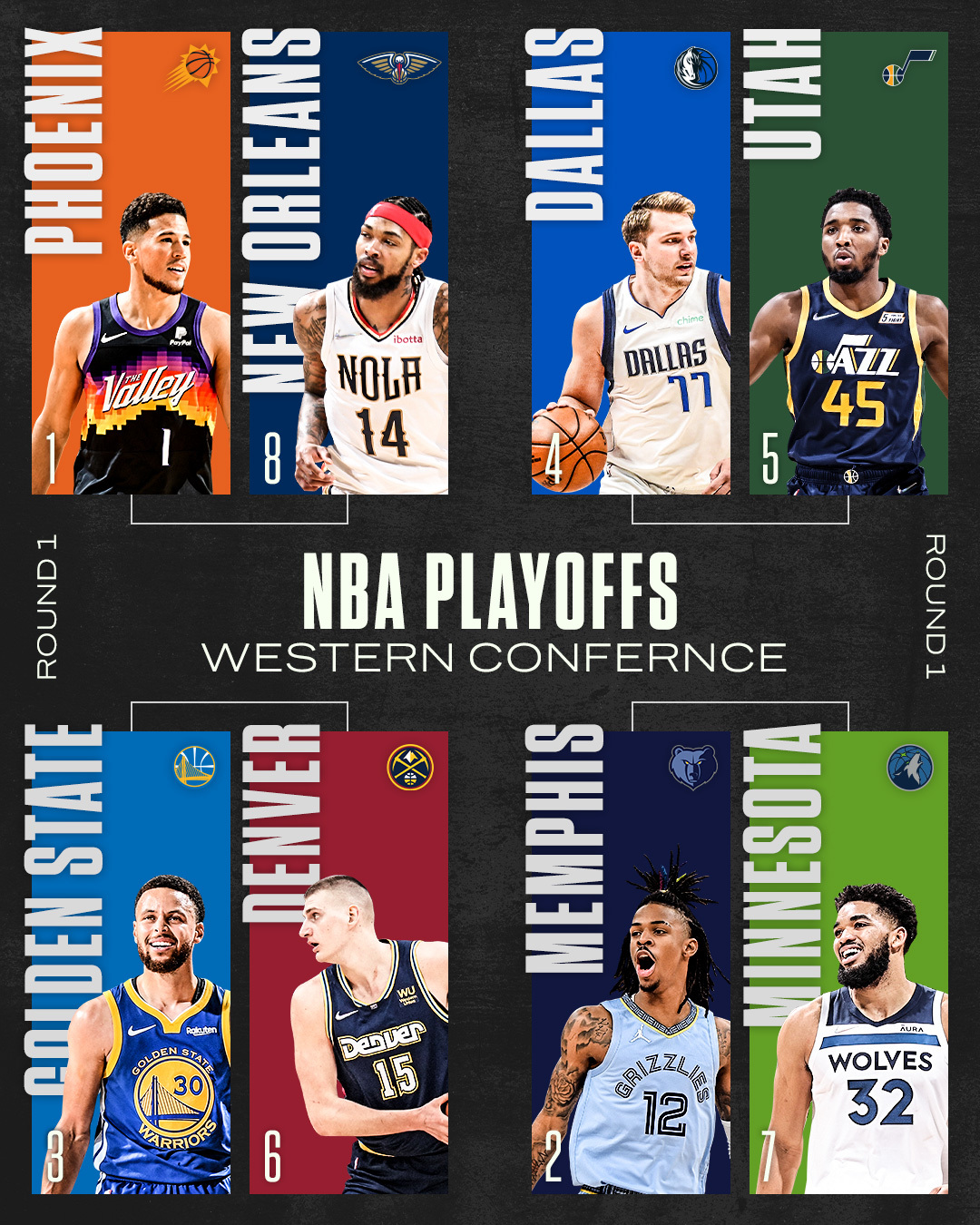 Phoenix Suns (1) v New Orleans Pelicans (8)
Jarael: The 2022 NBA champs will not lose a game in the first round. Phoenix Suns in 4. (Suns 4-0).
Ryan: The Suns are slowly becoming the Golden State Warriors. A franchise you love to cheer for because they didn't have too much success to slowly becoming the team you love to cheer against because of too much success. They may cruise through the playoffs again. (Suns 4-0).

Memphis Grizzlies (2) v Minnesota Timberwolves (7)
Jarael: One of the few first-round matchups that are interesting in the West. Memphis won't allow KAT to have crazy games. This will shift the offense to D'Angelo Russell and Anthony Edwards and I don't think they hold up. Grizzles in 5. (Grizzlies 4-1).
Ryan: Congrats Pat Beverly and Timberwolves on making the playoffs! Sadly, I don't see the Wolves doing much against the Grizzlies with Ja Morant. The Minnesota crowd may be crazy and loud enough to help them secure a couple of wins, but I see Memphis Cruising. (Grizzlies 4-2).
Golden State Warriors (3) v Denver Nuggets (6)
Jarael: I don't have faith in the Warriors but Denver has been overperforming all year. This is the playoffs and having multiple offensive options matters. Denver does not have that. (Warriors 4-2).
Ryan: Denver is always a dangerous team with Jokic in the frontcourt and the Warriors have been playing .500 basketball since January as they have been plagued with injuries. This game will come down to role players stepping up and I think the Warriors are in a better position in that category. Plus if they have a healthy Curry, watch out. (Warriors 4-3).
Dallas Mavericks (4) v Utah Jazz (5)
Jarael: I can't decide if I am interested in this match-up or not. Knowing neither team has a real chance at winning anything is deflating. Doncic has had some memorable first-round series and I think he'll do it again and then be sent home. (Jazz 4-2).

Ryan: Oh the Jazz. The team I always have so much confidence in and can never get over the hump in The Playoffs. But with an injured Luka, I don't think the Mavs have a chance to compete. (Jazz 4-1).