It is finally that time of the year. The Masters? No. Opening Day? No. March Madness? No… The NBA Playoffs!
Jarael and I give our predictions of the highly anticipated NBA Playoffs and predict the Eastern Conference.
Eastern Conference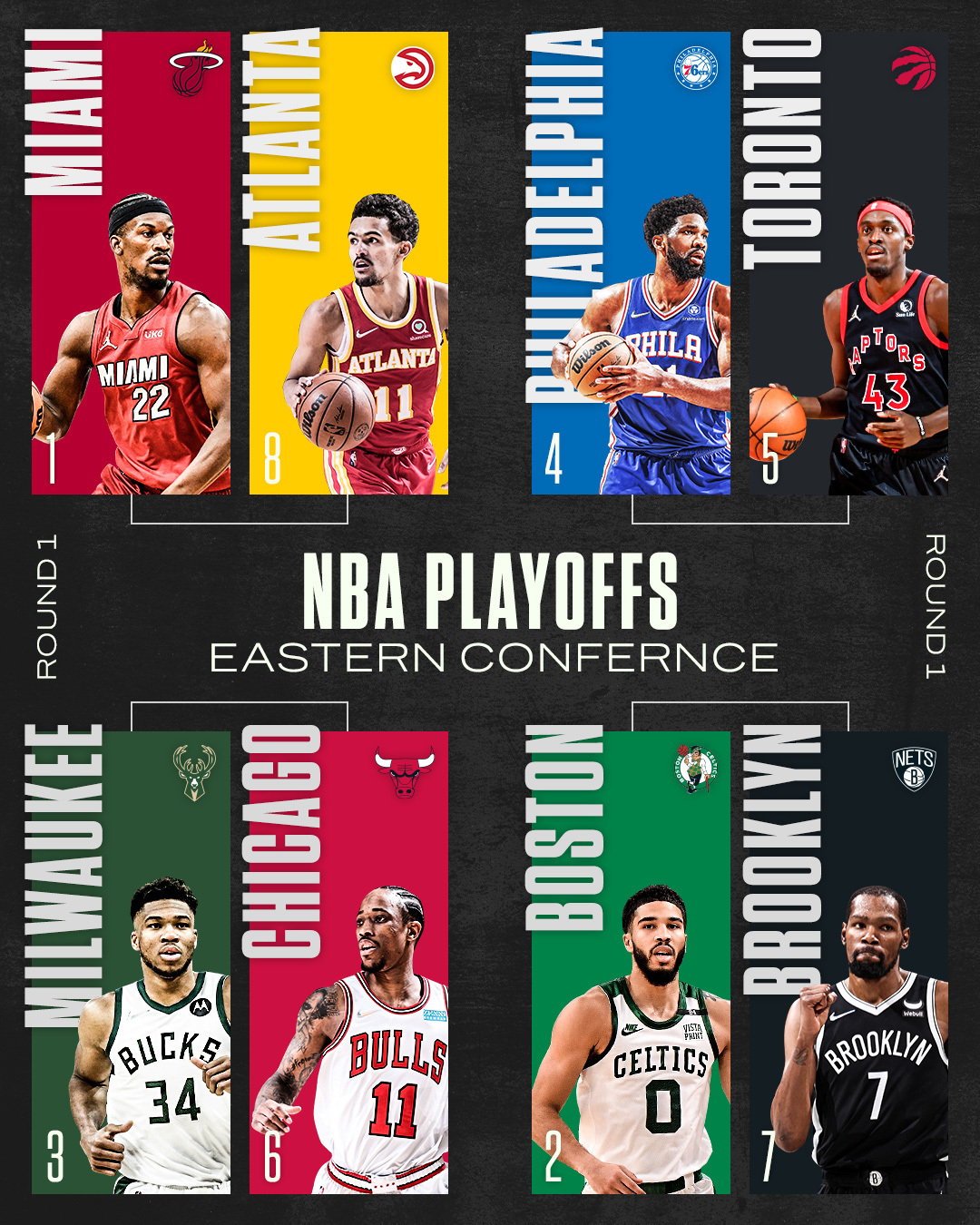 Miami Heat (1) v Atlanta Hawks (8)
Jarael: The Heat have been impressive all year but for some reason, we don't believe they are true contenders? I think the Heat drop a game in the series. (Heat 4-1).
Ryan: Sad about my Cavs! But how are the Heat a top seed? What a weird Eastern Conference. As Jarael mentioned, I have no confidence in the Heat as true contenders. But the Heat have an incredible bench and that really comes in handy during the Playoffs. Trae will be Trae and steal a couple on the road, but the Heat will be too much for the Hawks. (Heat 4-2).
Boston Celtics (2) v Brooklyn Nets (7)
Jarael: I want nothing positive to happen to Ben Simmons. I don't think Kyrie plays well in the Garden. I'm going with the C's in 6, especially if the Time Lord is healthy. (Celtics 4-2).
Ryan: Bruh, I hate the Nets and their shenanigans. But damn they are too talented and them being a 7 seed is an annoying fluke. Playoff KD and Kyrie are built different. (Nets 4-1).
Milwaukee Bucks (3) v Chicago Bulls (6)
Jarael: The Bucks playing well and the Bulls are showing us who they really are. They might not win a game this series but if they do it's game 4 to avoid the sweep. Bucks in 5. (Bucks 4-1).
Ryan: The Bulls are a good that doesn't play well against other good teams. They will continue that season tradition against the Bucks. Bucks easily take care of business. (Bucks 4-1).
Philadelphia 76ers (4) v Toronto Raptors (5)
Jarael: MVP candidate Joel Embiid faces a tough matchup in the first round. This Raptors team reminds me of the old Memphis team where they are physical and play hard. I got Philly in 6 but it's a hard-fought series. (76ers 4-2)
Ryan: Joel Embiid should win MVP. As a Cavs fan, watching him absolutely dominate Jarrett Allen and Evan Mobley, two of the best defenders in the league, makes me have to give it to him. I am watching this homie doing sidestep fade-a-way 3s and draining them. Then add in James Harden who flops and tricks refs for his way to the free-throw line, this won't be close. (76ers 4-1).