Is this just another cliche "decades" list like everyone else is doing as we approach 2020? Absolutely! Am I ashamed of it? No!
I was inspired by some of the lists I'd seen and decided to rank the top-10 Cyclone football moments of the decade on Twitter. It was so fun, I decided to do a top-10 list of men's basketball moments, as well. That ended up being so popular, I decided I'd compile both lists AND add another list to bring everyone's spirits down: Top-10 Cyclone Nut Kicks.
That's right, let's relive the past decade with a list of our favorite moments before I drag us all down with a list of things that only bring pain. I've linked the original tweets to the following lists, but will count them down (with a few corrections from the original tweets) so you can have them all right here.
10) James White touchdown to beat Iowa in triple OT in 2011. An iconic photo and the pandemonium that ensued was so great. Steele Jantz, wherever you are, we miss you. Come home.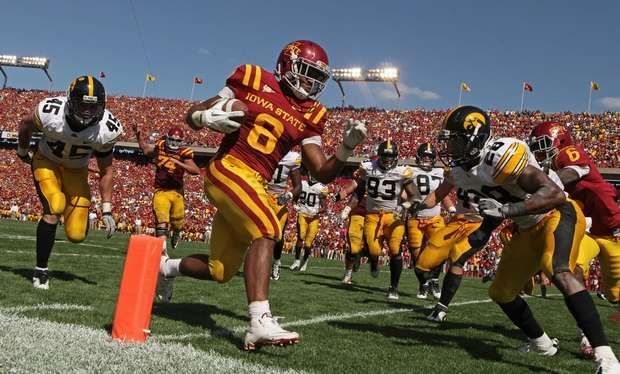 9) Realistically, the whole win against #4 TCU in 2017 wasn't that pretty, but this photo is one of my favorite ISU photos of all time. An awesome snapshot of how far this team came in a decade.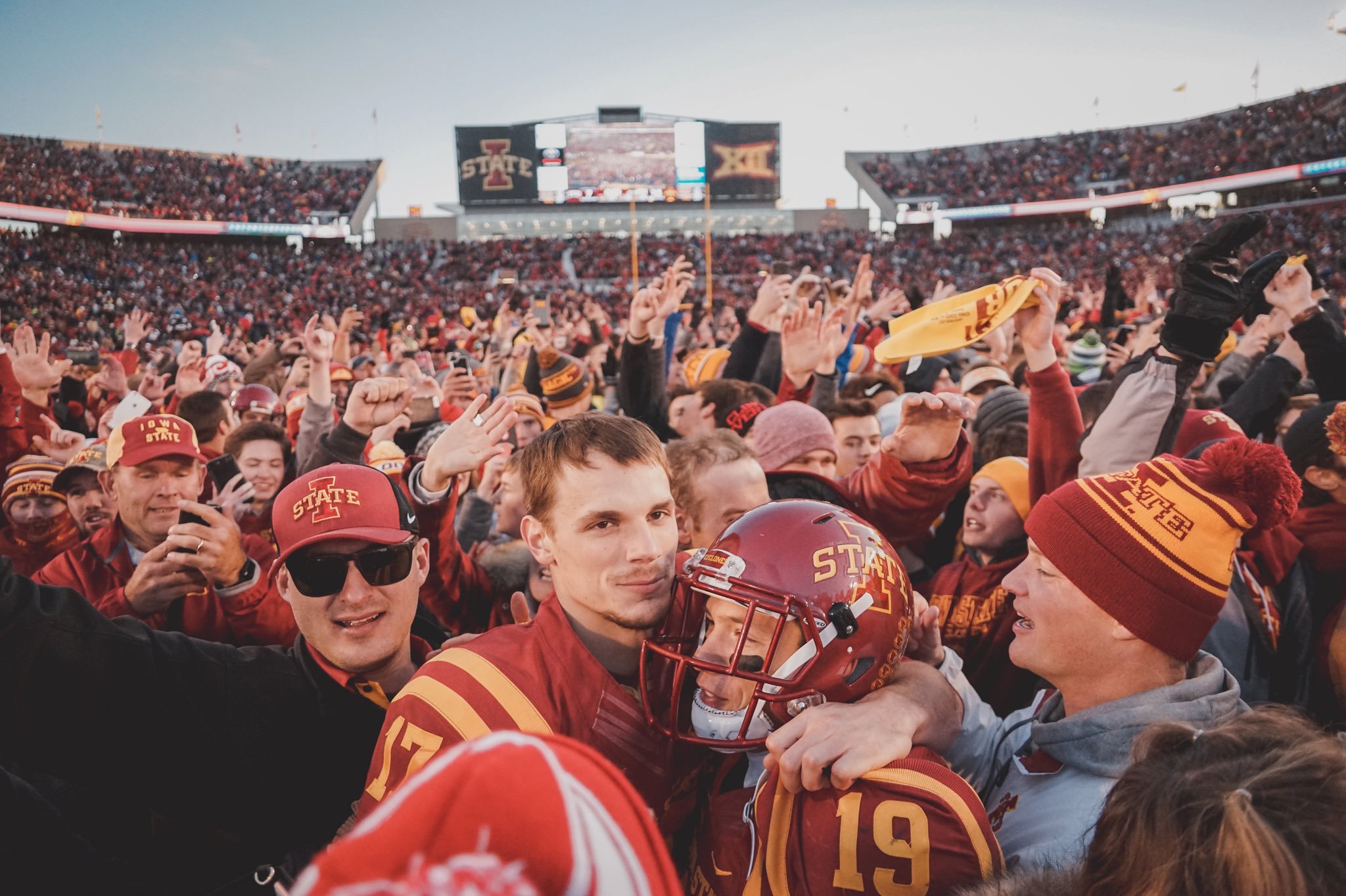 8) Paul Rhoads ripping into the officials in the post-game presser against Texas in 2013. He was right, he knew the consequences, and Pollard let him do it. I've never seen anything like it and I love it as much now as I loved it then.
7) Brock Purdy's coming out party against Oklahoma State almost made this list, but watching him, David Montgomery, and the Iowa State defense DISMANTLE #6 WVU at Jack Trice at night was… *chef's kiss*.
6) Allen Lazard flipping the Memphis helmet upside-down not once, but twice in the Liberty Bowl post-game press conference. The game was great and stuff, but this was the best moment.
5) Beating a ranked Texas team on a walk-off field goal at home. I can't say that sentence without smiling.
4) ISU running the ball (and fumbling) with a 35-28 lead with 1:31 in the game against Kansas State in 2015… and losing in regulation. It was the worst of times, and yet it led to where we are now. What a great moment of this decade. No picture needed.
3) Mike Rose's mid-air fumble recovery for a touchdown against Kansas State in 2018. The moment of pure confusion, the realization Rose has the ball, the camera shake, the 17-point 4th quarter comeback—it was a perfect moment of football.
2) Ter'Ran Benton's interception in double overtime to set up the win against #2 Oklahoma State in 2011. Woody's touchdown will always be remembered, but this was the moment everyone realized, "holy sh*t, we're actually going to beat the #2 team in the nation."
1) Kyle Kempt—a person many Cyclone fans literally did not know existed on the ISU roster—making his first start AT #3 Oklahoma and throwing a dart to Allen Lazard to win. Just bonkers. Ran around Barn Town Brewing screaming my head off.
10) Beating #1 Oklahoma. For beating a #1 team, this seems low, but that's how incredible this past decade has been. Georges Niang, Monte Morris, and Abdel Nader all scored 20+ points in this one. Figures.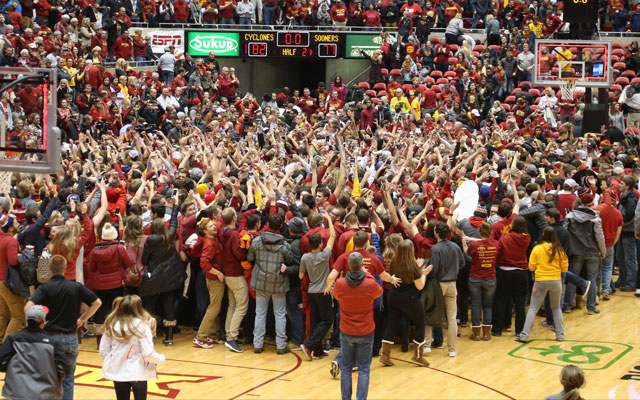 9) The Melvin Ejim Game. This game was ugly and boring for 30 minutes until everyone realized just how incredible Ejim's performance was. One of the coolest Hilton crowds I've ever seen, and none of it was focused on the final score.
8) The 3-point massacre in Phog Allen, 2017. Early in the 2nd half, ISU had just a 2.9% chance of winning. They hit 18 threes—none bigger than Donovan Jackson's "ONIONS" dagger in OT—to knock off the Jayhawks in improbable fashion.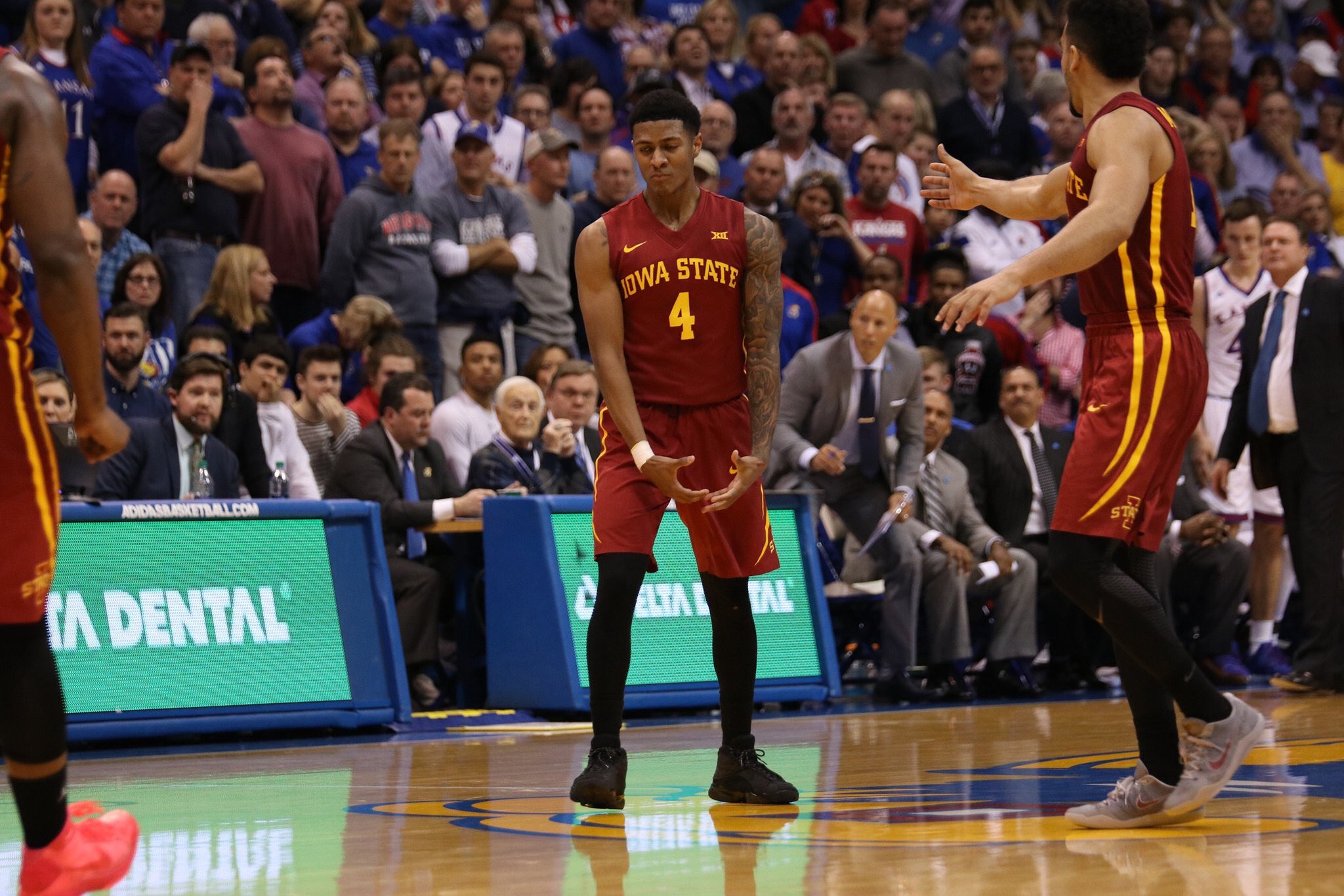 7) College GameDay in Ames. The fans were insane all day and ESPN couldn't get enough of the hundreds of students that camped out for more than a week for the game. Beating #9 Kansas (featuring a Matt Thomas dunk!) was the cherry on top.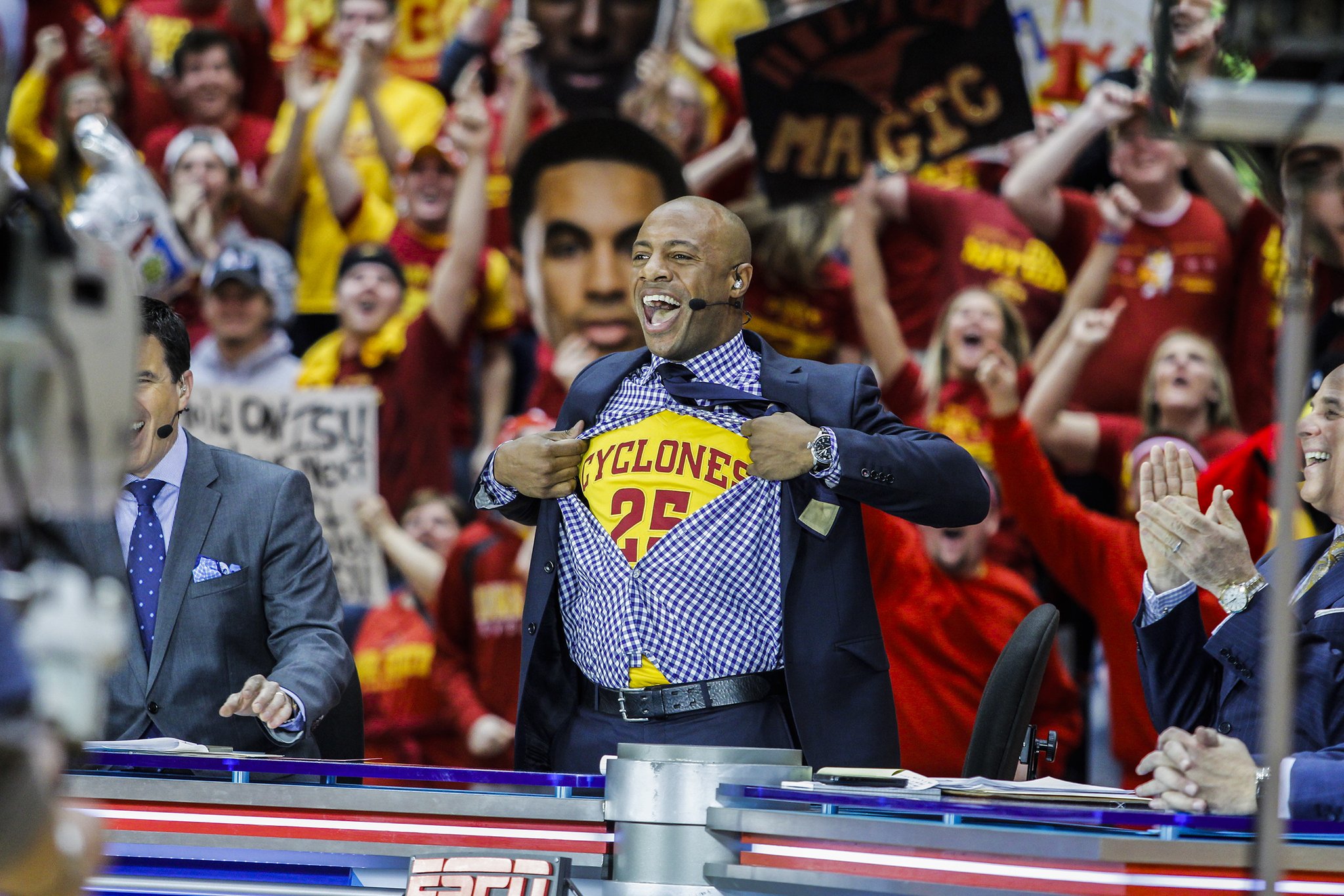 6) Johnny Orr walking into Hilton for the last time in 2013. I was so young and dumb at the time that I didn't fully grasp how cool this moment was as I stood there watching it. That day was absolutely special, topping it off with a win against #7 Michigan.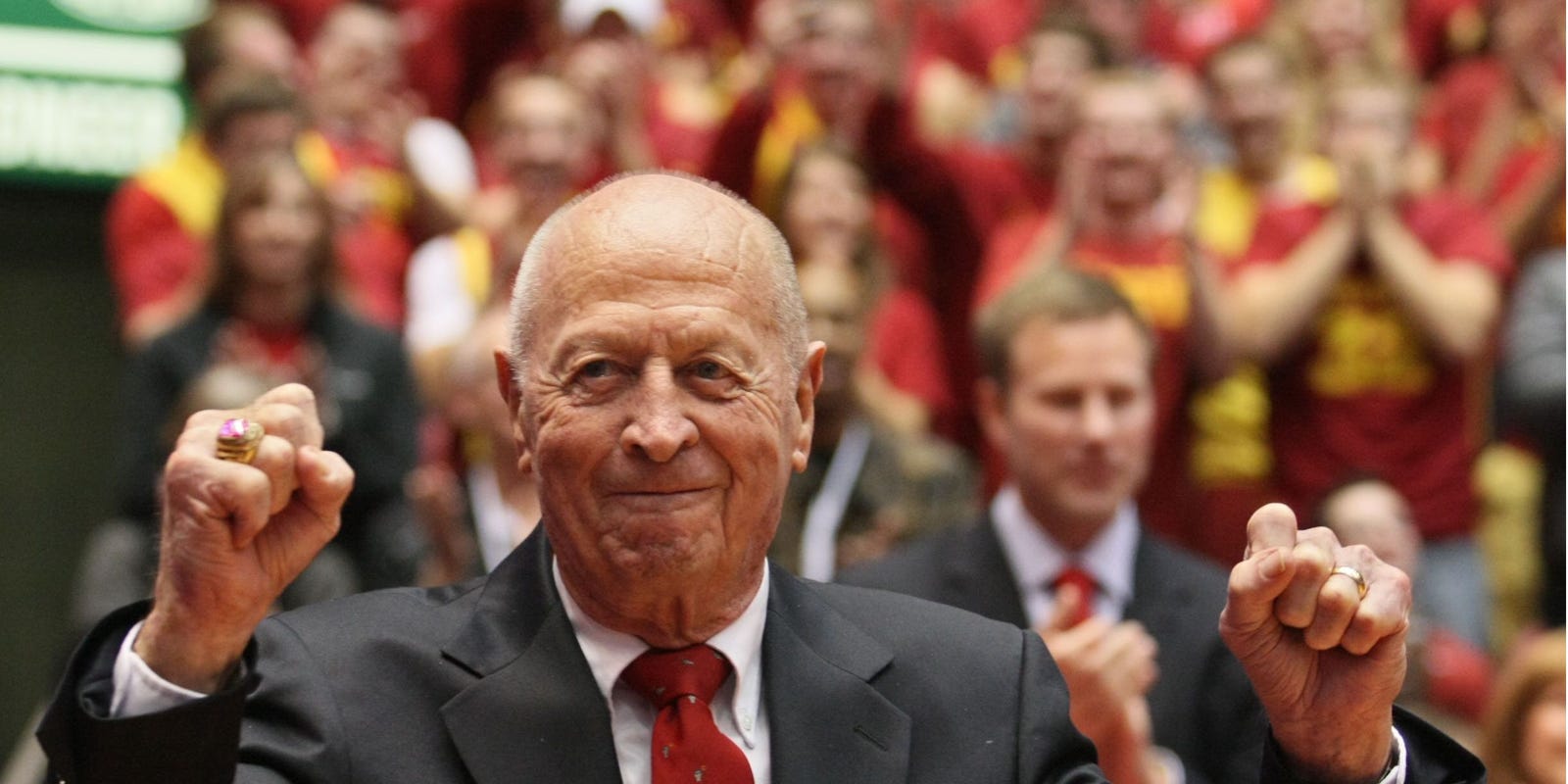 5) Naz Long infuriating Roy Williams. Beating UNC in the NCAA tournament would be many programs' #1 moment of the decade, but Long and Deandre Kane made it extra special by beating them in the final seconds. LOOK AT THE ANGER.
4) The 2015 Big 12 Tournament. I easily could have put the 2014 title game versus Baylor here, but the 2015 run was so crazy, it wins. The Monte Morris buzzer beater to beat Texas after leading for 0 second of the game, the Spangler miss, and the 17-point comeback against Kansas in the championship—an absolutely bonkers three days in Kansas City.
3) The 2013 CyHawk game was one of the most incredible games I've ever seen in person—the missed FTs by Gesell was one of the loudest moments in Hilton history—but I absolutely laugh my ass off every time I see this clip. Easily a top moment of the decade.
2) Forte's free throw attempt… no good! The rebound to Matt Thomas. Here comes Kane, 3 seconds. Ahead to Naz Long, he's going to fire for the tie!—GOOOOD! NAZ LONG DOES IT AGAIN! ARE YOUUU KIDDING MEEEE???
1) The Comeback. I was on press row as a student reporter. When Hogue dunked to bring the game within 3 points, I looked at my computer to type a tweet and couldn't read my screen because the floor was shaking. I will never forget that moment.
Top-10 Cyclone Nut-kick Moments
10) The Kenny Chery Floater, 2015. This feels like a light nut-tap in comparison to some others, but the combination of the push-off before draining the game-winner and the run Iowa State was on (a win would have given them 3 ranked wins in a row), losing to Baylor like this sucked.
9) The Baylor Massacre, 2013. Honestly, this was just an ass-kicking, but the audio of Walters and Heft jokingly celebrating it not being the worst loss in ISU history before Baylor returned a kick-off to make it the worst loss in ISU history… hahahaha nut-kick.
8) The Wide Open 2-point Conversion, 2010. Rhoads made the right call with a well drawn-up fake PAT in overtime against #9 Nebraska. Holder Daniel Kuehl floated the pass to a wide open Collin Franklin that looked like the game winner for a full two seconds. Alas, it was intercepted.
7) Niang Breaks Foot, 2014. This certainly sucked in the moment, but it's an even bigger nut-kick in retrospect, knowing ISU ended just 6 points short of beating the eventual national champions, UConn. It's one that kicks harder the more you think about it. Fred Hoiberg looks like he saw a ghost in the post-game presser as he announces it.
6) The Picked Up Flag(s), 2017. Even if we ignore that 3 flags were picked up and waived off in KSU's favor, you simply can't ignore the blatant defensive pass interference the refs decided to negate that would have given ISU a first down to essentially seal the win.
5) UAB, 2015. The most talented team in Iowa State history, all for naught because of some frosted tips.
4) The Jeremiah George Strip, 2013. A perfect example of "indisputable video evidence" stealing a win. What should have been called a fumble on the field (and would've been upheld in review) to seal the win, Texas gets the benefit of the doubt. Foot, meet nuts.
3) The Kansas State Meltdown, 2015. ISU led by seven points with 91 seconds to play and only one KSU timeout. Kneeling would have basically ended the game with KSU getting the ball back with about 10 seconds left. Instead, they fumbled. And lost in regulation. The highlight video doesn't even capture just how epic the collapse was.
2) The Aaron Craft Game, 2013. In a rare double nut-kick, Craft drew a controversial charge in the final minutes of an NCAA tourney game that Iowa State led 75-74. Instead of counting the made Will Clyburn basket and putting him on the line to put the Cyclones ahead 78-74, Craft went to the line to tie the game at 75-all. He'd infamously go on to hit the game-winning 3-pointer with 0.5 seconds left. The NCAA would modify the charge rule the next season as a direct result of the call.
1) The Blarge, 2013. In another game that came down to a questionable block/charge call, this one was amplified by the atmosphere. This was a crowd that literally ripped the doors off their hinges flooding into the game (which led to reforming the Hilton student entry policy, making a single-file line that wraps around the arena). That pre-game energy transformed into the angriest sports crowd I've ever been a part of. The Big 12 would later acknowledge "officiating mistakes" after every sports show known to man ripped apart the end-of-game officiating.